For Thanksgiving this year my husband and I drove 10 hours to spend several days with his family. We gave his 20 year old niece and his mother a ride as well. This was a semi-interesting journey. I was knitting Granny Dishcloths most of the time; while our niece napped with her ear buds in, and my mother-in-law commented on the other drivers on the road. My husband just drove and listened to the radio; he was very patient, I was proud of him. ;)
For a trip like this I didn't want to be eating road food the whole time (a.k.a. candy bars, chips and hamburgers.) so I stuck my nose into my newest cookbook and found a recipe for a Car Snack.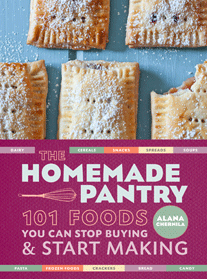 I don't usually read cookbooks, but this one was so delightful I read it cover to cover within a week after it arrived. I identified with the authoress, she must be a kindred spirit.;) There is a descriptive personal story to accompany each recipe and I felt like I really was there with Alana in her kitchen sitting on her couch. (Revolutionary idea by the way, I will have to get a couch for my own kitchen!)
The cereal bars were delicious and fun to eat and had lots of fiber to help me digest while sitting in a car for 10 hours. ( As I get older I find this becomes increasingly important to me.) I was able to recover from traveling quickly. It was great! Even my husband's niece liked them.
The Homemade Pantry is now one of my favorite cookbooks. There are recipes for most of the basic things you buy at the store and they look like simple recipes too. I have only tried one recipe so far but I am itching to try them all! Alana also has a blog where she shares her most recent experiences and recipes. She posted a recipe for Maple Apple Chips I am so looking forward to making among other things. I am so grateful to people like Alana Chernila who inspire and teach me ways I can simplify my life. Allot of the recipes I find to make from scratch are much more economical and healthier to make myself. The ones that aren't much cheaper I still feel more confident making myself because I am bypassing a lot of added sugars, salt, trans fats, and preservatives I don't want in my family's diet. Not to mention the packaging that just enlarges more landfills. I feel happy to know I've found a way around some of the industrialization that impregnates our civilization.